In November, we learned more about Will  Bell, City Councilman, District 3
YP Member Spotlight- Will Bell
1. How did you get to Greenville?
I came to Greenville in 2011 to earn a B.S. in Political Science and minor in Business Administration from East Carolina University.
2. Where is your favorite breakfast/coffee spot in Greenville?
My favorite breakfast spot in Greenville is Fresh Vibes. I enjoy starting my day with something light and healthy!
3. Where is your favorite lunch spot in Greenville?
My favorite place to grab lunch is Villa Verde Dos, the original location is awesome but I stay busy and enjoy the fast and tasty lunch!
4. Where is your favorite dinner spot in Greenville?
I am a big foodie and dinner is the time of day where I finally get to slow down. My wife and I love anywhere in Uptown but are most likely to be found at Chicos or DAP House.
5. What are your top three things to do in Greenville?
I enjoy taking the boat on the river, watching any ECU sporting event(I prefer football and basketball), and running along the Greenway.
6. What is your favorite festival in Greenville?
It might not be a festival per say, however, I really enjoy attending Doggie Jams each year. I think Doggie Jams is a great event that happens on an annual basis and really activates our Uptown for a full day.
7. What is your favorite park in Greenville and why?
I live right near the Greenway and use it nearly every day. I am excited to see the next extension of our Greenway that is coming in 2020.
8. How do you give back to Greenville?
I have served on the Greenville City Council since 2017 and have really enjoyed that. I am up for reelection this November. I also serve on the steering committee for the Pitt County Young Professionals. I also organize and lead a monthly litter clean up throughout my district for City Council.
9. What is one thing you would like to see come to Greenville?
I am going to make yet another public plea for Dank Burrito to come to Greenville. Like I said, I am a foodie.
10. How can Greenville be improved?
Greenville is an amazing city with so much of our story left to be told. An area we can continue to grow would be our support of entrepreneurs and small businesses. I am confident that we will continue to see job creation and retention of ECU and PCC graduates with sustained support for these private sector contributors.
11. How did you hear about the Young Professionals of Pitt County?
My older sister attended YP events for years. Eventually I got curious and decided to get my feet wet with a Third Thursday. Third Thursdays are the perfect opportunity to try us out; these monthly events are laid back and great for networking.
12. Why did you join the Young Professionals of Pitt County?
I joined Young Professionals of Pitt County because I felt that It was a great way to meet likeminded people of similar age in the community. I was right!
13. What is your favorite part of YP?
I enjoy meeting other people in the community and learning about the businesses that they own and/or work for. The business community in Pitt County is incredibly diverse and employs an impressive group of Young Professionals.
14. What is your favorite YP event and why?
I really enjoyed the Birdies, Beer, and BBQ golf tournament this year. We took the tournament up to 18 holes for the first time ever this year and the weather was perfect!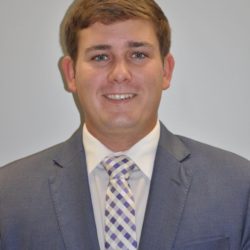 Categories: Uncategorized